Come to the IPA
Looking for a place to stay? Come to the IPA.
The accounting profession has always been held in high esteem amongst all professions.  Our members are seen as trusted advisers to their clients - more so than any other profession.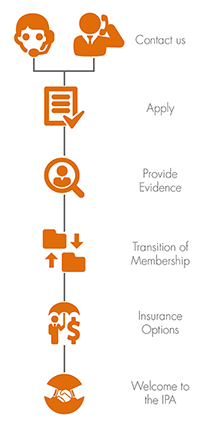 The IPA consistently strives for the highest of standards, and we expect our members to maintain those standards.  We maintain a strong corporate governance framework and encourage our members to be involved.
In doing this, we continue to enhance the reputation of the profession based on the best interests of our members and the public.  The IPA is a member of the International Federation of Accountants (IFAC) and the Accounting Professional and Ethical Standards Board.
We're proud to recognise membership with associations who are full members of IFAC.  This includes CPA Australia.  
The IPA PSC Scheme has been approved and is currently going through the legislative process to become law. We are expecting the Scheme to be in place throughout all Australian states and territories over the coming months. This will give you time to update your stationery and become aware of your compliance requirements in relation to being part of the IPA Scheme.
If you're keen to join us at the IPA, the process is very straightforward. We simply ask that you provide evidence of your current year's paid CPA Australia subscription, and we'll be happy to talk to you about the opportunities and benefits of IPA membership.
We're also raising the bar when it comes to education pathways, and we're now offering a Master of Business Administration (MBA) as part of our IPA program.  The IPA MBA is conducted in partnership with Deakin University, and offers flexible study arrangements. 
Depending on your current qualifications and experience, you may be eligible to undertake the IPA MBA in half the time and cost of what it would normally take.
Joining the IPA will also provide you with membership of the Institute of Financial Accountants in the UK at no additional cost - two designations for the price of one.
How to join us
Chat online with us now, call our IPA hotline on 1800 625 625, or call your local Member Engagement Executive on their number below.
Complete the membership application form
Provide evidence of your current financial membership with CPA
We'll manage the transition to membership of the IPA - joining a network of more than 35,000 members and students 
If you choose, we can refer you to IPA Insure for a no-obligation Professional Indemnity Insurance quote
You'll receive your membership and practice certificates. In addition, for no additional charge, you'll receive recognition in the United Kingdom with the Institute of Financial Accountants. 
To contact your local Member Engagement Executive:
South Australia/Northern Territory - Adam Spence (08) 8227 2255 or 0403 346 987
Queensland - Audra Duncan     (07) 3229 7102 or 0403 327 581
New South Wales - Debbie Savann   (02) 8262 6000 or 0421 702 156
Western Australia - Sarah McIntyre  (08) 9368 7600 or 0435 869 373
Victoria/Tasmania - Elise Halloran    (03) 8665 3142 or 0478 797 485
So what are you waiting for?  Take the first step and give us a call, or chat online with us now. 
*This offer is valid till 31 December 2017 (application receipt date).